So, you need a dumpster and have no idea where to start?
The first place you typically start when you are interested in renting a container is obviously going to be google, you will take the time to search and search and search trying to figure out who to go with, what size you need, and so on. I would imagine that is how you landed on this blog post. I am going to help you out with the ins and outs of picking the right size container for you, as well as, placement, payment, and what you should and shouldn't put into the container you are renting!  
Here at Jacobs Demolition, we provide multiple different types of dumpsters as well as different sizes. We have 3 Roll-off trucks and over 150 dumpsters to provide you with excellent and speedy service. The only thing we ask of you is to please call at least 24 hours in advance to place your dumpster order! This way we can plan out our day and get your container to you in a timely fashion.
Step 1: Deciding what kind of dumpster you will need 
This can be determined by what type of project you are doing. For example: if you are cleaning up your yard and have bushes you need to get rid of, you would choose a brush dumpster. If you were spring cleaning and emptying out your garage, a debris dumpster is what you are looking for.  
Types of dumpsters we offer: 
Debris Dumpsters

Brush Dumpsters  

Concrete 

Asphalt 

Dirt/Fill upon request
10-Cubic Yards
11' L x 5' W x 4' H
2-ton limit
Spring Cleanups 

Roofing Removal

S/M Home Clean outs 

Small Deck Removals

Small Kitchen/Bath renovations
15-Cubic Yards
16'  L x 5' W x 4.5' H
2.5-ton limit 
1-Car Garage Cleanout

Yard Debris Cleanup

Sm-Md Renovation projects 

Small Deck or Shed Removal
20-Cubic Yards
22' L x 5' W x 4.5' H
3-ton limit 
Any Home remodeling projects

Large home clean-outs

Window/Siding Replacement on home

Small Home Additions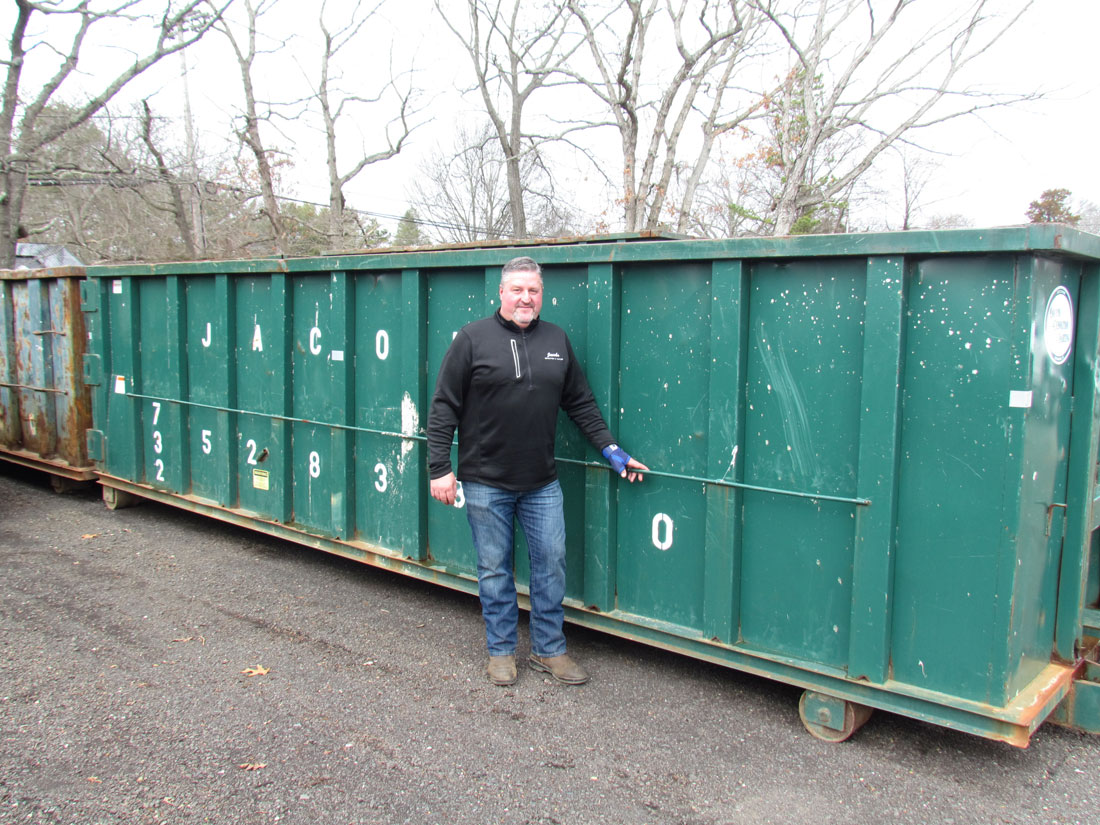 30-Cubic Yards
22' L x 8' W x 6' H
5-ton limit  
New-home construction

Major home additions

Complete siding or Window replacement 

Large roof replacement debris 

Whole house cleanouts
40-Cubic Yards
22' L x 7.5' W x 8' H
7-ton limit 
New-home construction

Major home addition

Major home renovations
Step 2: Picking the right size. 
Once you know the type of dumpster you are going to need, it is time to pick the size you are going to need! The pictures above will give you an idea of what dumpster size is best for the project you are doing, and what we recommended for each size as well as the measurements! 
Step 3: Delivery Day 
Now that you have picked a type and a size the next step is to have the dumpster delivered to the location you choose. It is important to know where you are going to put your dumpster rental, this way you know it fits. You can use the specs mentioned in the above step to measure and make sure it will fit in the area you have designated for it. Another important part of this step is to be sure you leave any special instructions, for example: 
"I have a new driveway/paver driveway." In this case we would make sure to bring plywood to place underneath the dumpster to avoid damage. 

 "I want my dumpster in front of my right garage door" or "I want my dumpster along the left side of my house" – If you have a special request on where your dumpster rental should be placed, please be sure to tell us. 

"I can't fit any of these containers in my yard or driveway, can you put it on the street?" – In most cases the answer is yes, but on some occasions the dumpster is unable to be put in the street. An example would be Sea Girt, NJ – they do not allow dumpsters to be placed in the street at any time!! 
Step 4: THESE THINGS CAN NOT GO INTO YOUR RENTED DUMPSTERS:
Vertical gas cylinders or Corrosive materials 

Kerosene, WD-40, etc.

Paint cans, Paint thinner, or diesel

Gas cans/containers if filled 

Propane tanks

Asbestos or other hazardous materials

Fire extinguishers 

Car batteries
Step 5: Payment & Pick-up 
Once you are finished with your dumpster rental, you can call and schedule it to be picked up. Please note that we need 24 to 48 hours to schedule a pick-up. If you would like the dumpster to be emptied and returned, please specify that when you call the office! 
Payment is requested in the form of checks or credit cards. If you are choosing to pay by check, please be sure to have the check on site the day of delivery. If you are paying with a credit card, you will be asked for the number upon request for rental. 
***Please note that if your dumpster is over the specified weight allowed there will be an overweight charge. You will be notified via the preferred form of communication to confirm before you are charged or invoiced***